DONALD EMERY FORBES, "SEA SONG"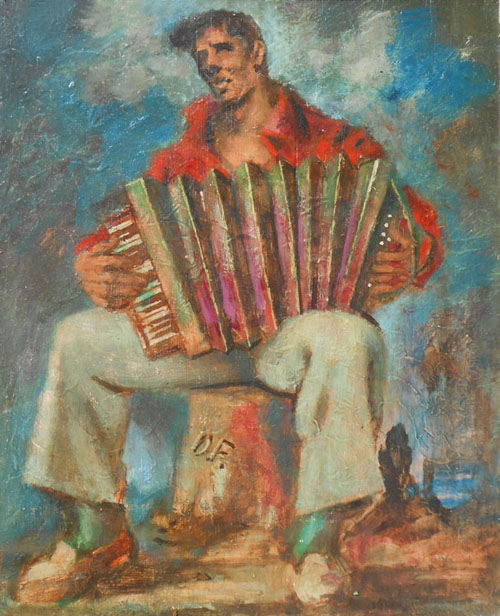 Encaustic on plywood, 13 inches by 16.25 inches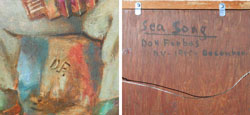 Signed "D. F." in painting and "Sea Song, Don Forbes, NY-1945-December" on back
Donald Emery Forbes (1905-1951) was born and raised in an orphanage in Auburn, Nebraska. Forbes went to California in 1920. In Los Angeles he worked at odd jobs and as a movie extra. He held his first exhibition at the Los Angeles Public Library in 1927. The following year he was a member of the teaching faculty at the CSFA and then went to New York City where he found work illustrating books. In 1930 he moved to New Orleans where he received his first formal art instructions at the Arts & Crafts Club. He also studied with Jean Charlot at the Florence Cane School, NYC.
He exhibited "By the River" in 1936 at the Forty Seventh Annual Exhibition of American Paintings and Sculpture at the Art Institute of Chicago. In 1942 when the Museum of Modern art announced the purchase of "Josè", the artist was listed as living in Woodstock, NY. Forbes worked for the Federal Art Project of the Works Progress Administration. "Tanks at Hunt's Point" was given WPA to the Detroit Institute of Arts by the WPA in 1943.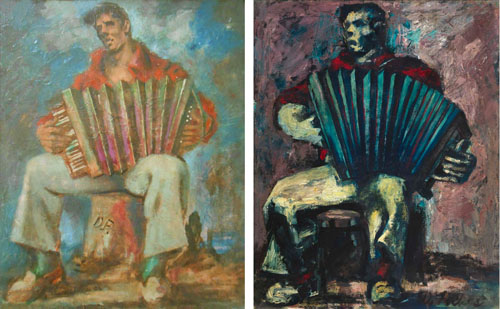 "The Accordion Player" (transferred from The Museum of Modern Art to the Smithsonian American Art Museum in 1971) is very similar, if more grim, to "Sea Song" shown here under artificial light on the left.