LE PREMIER LIVRE DES CACHETS, MARQUES ET MONNOGRAMMES
DESIGNED BY GEORGE AURIOL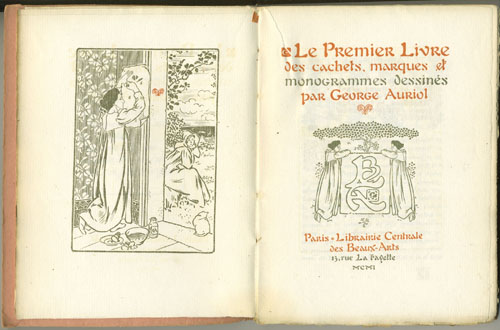 Paris, Librairie Centrale des Beaux-Arts, 1901, Frontis, illustration, 71 litho plates of seals and monograms printed recto only, (12)pp., printed throughout in grey-green and terra-cotta, small square 8vo.; folded pictorial wrappers over card as issued; spine is fragment and fragile; Fields 331. The typography in this little Art Nouveau book is in Auriol's distinctive "brushstroke" type; some monograms were developed from Japanese crests. Each is designed for a named person, including many prominent artists and celebrities including Henri Rivière, Stephane Mallarmé, Georges Moreau, Anatole France, and Henri de Toulouse-Lautrec.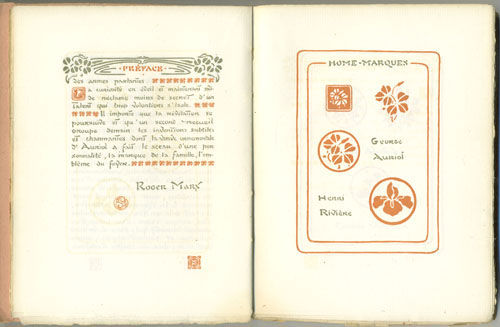 George Auriol (1863-1938, Paris), was a French poet, songwriter, artist, and designer of graphics and type. He worked in many mediums creating illustrations for the covers of magazines, books, and sheet music, as well designing monograms and trademarks. After he arrived in Paris in 1883, Auriol was introduced to typography and book design by Eugène Grasset and became particularly interested in the revival of historical type styles. He created his signature typeface, Auriol, for the Deberny-Peignot company. foundry, Auriol was a member of French bohemian culture, a denizen of the Chat Noir ("Black Cat Café") and long a friend of Erik Satie. Auriol illustrated playbills for André Antoine's Thé'tre Libre and for the Thé'tre du Chat Noir in Montmartre.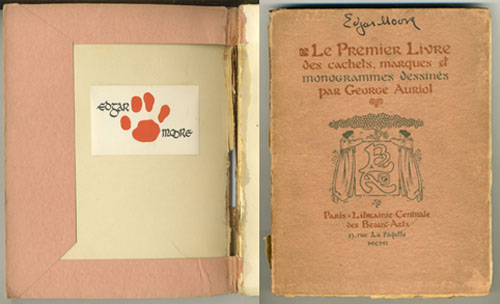 This copy has the paw-print bookplate of an Edgar Moore.