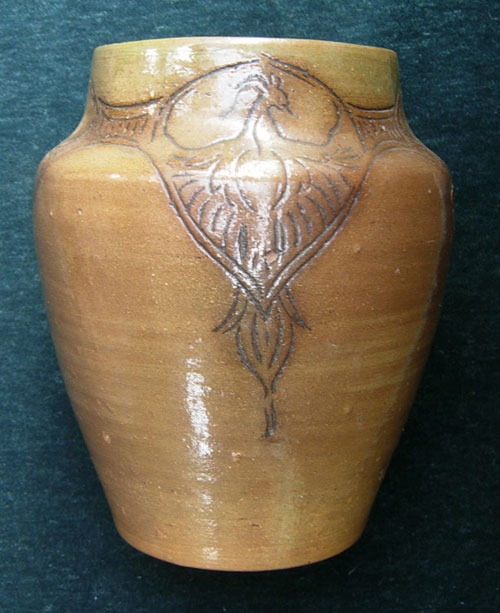 CHARLES THOMAS SCOTT PEACOCK VASE, ca. 1914

Salt-glazed stoneware, 6.5" high
Signed: "C. Scott"
Charles Thomas Scott was born in 1876, which, in hindsight, was a significant year for the development of the Arts & Crafts movement in Pennsylvania: Not only was the Centennial Exposition in Philadelphia a place where much of the nation's artistic community was exposed to Arts & Crafts philosophy for the first time, the Pennsylvania Museum and School of Industrial Art was founded in the same year. By 1914 Charles Scott was an "instructor in modeling and structural design" at the school where he with Howard Fremont Stratton and Leon Volkmar taught a whole new generation of craftsmen including Samuel Yellin, John Ray Sinnock, Parke Edwards and Leon Corson, who, in turn, taught stars of the studio pottery movement like Glen Lukens.
Scott passed on his love of the scrafitto decorations Pennsylvania folk pottery to Corson who published a number of articles about the technique in various arts magazines.
This wheel-thrown vase combines the traditional with the modern. It is made of local grey stoneware (favored by Pennsylvania potters making utilitarian wares by students at the Philadelphia school, but rarely used at other art potteries) and scrafitto. However the peacocks are motifs beloved by Arts & Crafts designers and the conventionalization of the birds follows a major Arts & Crafts tenet.