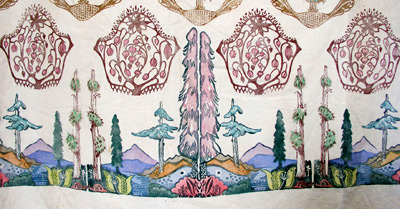 SABATOS RUGS AND PRINTED TEXTILES
From Hewnoaks, Center Lovell, Maine
Hewnoaks was the home of the Volk family located in Center Lovell, Maine, on the shores of Kezar Lake. It was also the heart of an Arts and Crafts community. Marion Volk decided to improve upon a generations-old native tradition of making "drawn" rugs and with the help of her son Wendell and daughter Marion she began Sabatos Handcrafts in 1901. The Volks gathered together residents of Center Lovell, who then carried out every part of the rug-making process. Twenty years later the Volks began producing block-printed textiles. The rugs and printed panels are extremely rare today. The pieces here offered as a collection are all from the estate of Wendell Volk's widow Jessie.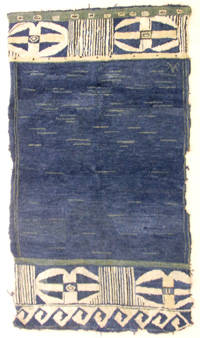 Before determining that a burlap foundation would not wear as long as the wool pile, the Volks made this prototype sample. Wool on a burlap support, 57 ½" x 33 ¾", retains embroidered Sabatos label with Marion Volk monogram.

Indigo blue was the Sabatos signature color. This runner has an "S" for Sabatos woven into the design. Wool yarn on a wool foundation, 47" x 14 ½".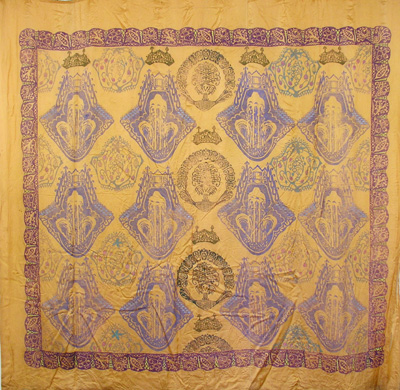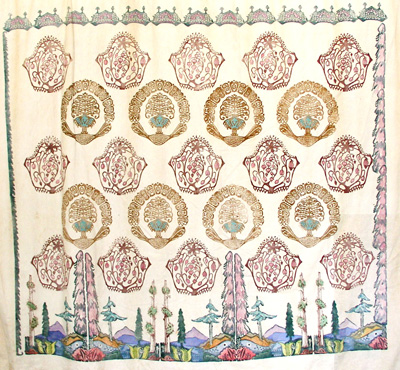 These portieres are the masterpieces of the Volk printed textiles. One side is printed on white cotton and has a fairy-tale woodland border printed along the bottom. The other side is printed on yellow silk. Persian fountains, bridges, and trees are among the vivid repeat motifs. Each panel is 86" x 94 ½". The original printing blocks are offered with the panels.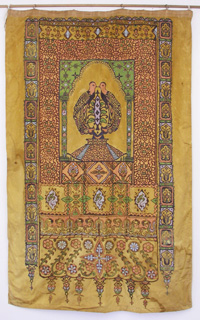 This panel is based on antique Persian designs. The hand-painted signatures of the eight Maine women who made the panel are hidden among the block-printed birds and flowers. Silk backed with cotton, 70" x 44". The original linoleum printing blocks accompany this panel.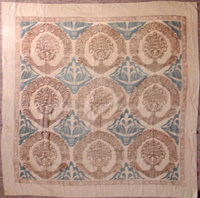 Turquoise bird and fountain vignettes alternate with tree of life designs on this cotton or linen table square. The tree blocks were used again on the portieres. 51 ½" x 50".
For More Information on the Sabatos Rugs and Textiles
Please Click Here