KARL KNATHS/AGNES WEINRICK CHRISTMAS CARD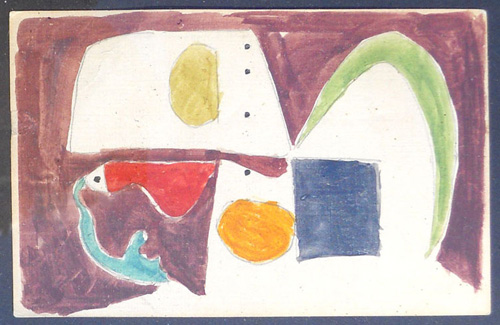 Watercolor on paper, 31/4 x 5 1/16
Signed on reverse: "Best wishes for a Merry Christmas
and a  Happy New Year, Karl & Helen Knaths, Agnes Weinrich."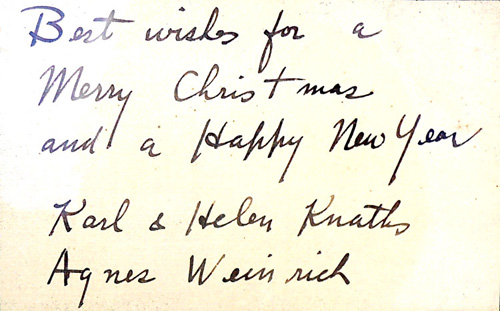 Karl Knaths (1891-1971) worked in a cubist idiom. Knaths graduated from the Art Institute of Chicago in 1916. He was first exposed to modernism as a guard at the Chicago presentation of 1913 the Armory Show and began to incorporate aspects of the progressive styles. After a brief stay in New York, he became a lifelong resident of Provincetown, Massachusetts, where he exhibited landscapes and still-life paintings regularly with the Provincetown Art Association. Influenced by the works and writings of Wassily Kandinsky (1866–1944), Knaths visited New York frequently, participating in the 1921 Society of Independent Artists exhibition and Katherine Dreier's 1926 Société Anonyme exhibition in Brooklyn. His first one-person exhibition was held at The Phillips Collection (then the Phillips Memorial Gallery) in 1929.
Agnes Weinrich (1873-1946) was Karl Knaths' sister-in-in law. She had traveled and studied in France and Germany and taught Knaths much of what she knew about modern art. Like Blanche Lazzell, Weinrich studied with Albert Gleizes, the French Cubist painter, who influenced so many of the Provincetown colony. Weinrich, Lazzell and Lucy L'Engle were all founding members of the New York Society of Women Artists (1925) who were all modernists.
Weinrich and Knaths lived and worked closely together in Provincetown. This card comes from the estate of Marjorie Phillips, wife of Duncan who founded the Phillips Memorial Gallery and was a major Knaths patron. The card is now in a modern frame.