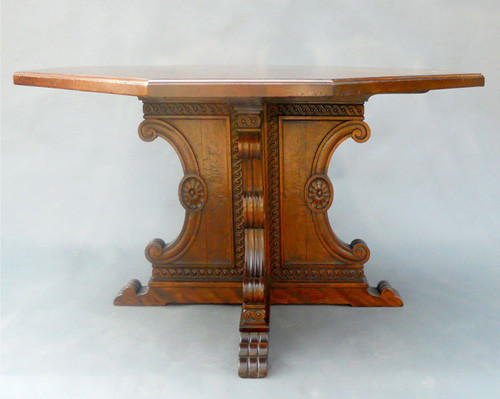 FRANCIS BACON COMPANY CENTER TABLE
Walnut, 30" high, Top: 48" by 48" Branded "FB Co, 1919"
Francis Henry Bacon (1856-1940) was an American designer who had received a degree in architecture from the Massachusetts Institute of Technology in 1877 and spent several years working with such architecture firms as the prestigious McKim, Meade and Bigelow in New York. During these years he also traveled and studied in Europe, working on the excavations of Assos, Turkey during two years of travel with the Archaeological Institute of America.
Bacon began working in the office of celebrated American architect H.H. Richardson in 1883. As an architect and furniture designer, H.H. Richardson collaborated with the best designers and craftsmen of his times including Charles Coolidge, and Stanford White, a partner in the firm of McKim, Mead and White, architects of the Boston Public Library. The prestigious furniture makers and carvers at A.H. Davenport and Company, who merged with Irving and Casson in 1916, executed most of Richardson's furniture commissions including the Court of Appeals in Albany, New York, the Crane Library in Quincy, the Billings Library in Burlington, Vermont.
By 1885 Bacon had become principle designer for A. H. Davenport and Company, where he later served as vice-president. There he translated the handcraft ideals of the late 19th century into designs for modern factory- made furniture. Because of Bacon's earlier affiliation with Richardson's firm, and because Richardson's office was extremely busy at the time, Bacon, and in turn Davenport and Company, were given furniture commissions for many of Richardson's late buildings. Such commissions included the Converse Memorial Library in Malden, MA and the Glessner house in Chicago.
By 1904 Bacon had formed his own furniture-making and decorating company: "Francis H. Bacon Co. Designers and Manufacturers of Furniture, Draperies and Interior Decorations, Special Designs Executed in Our Own Factory" Bacon's brand included the date of production within a banner beneath his "F" "B" monogram.
Our walnut Renaissance-style center table is dated 1919. The virtuoso hand carving, which leaves only the most subtle evidence of the chisel on the flat surfaces of the base, distinguishes the design from any of the many similar machine-carved production pieces made to supply popular demand for such tables that were widely used to furnish formal center halls.