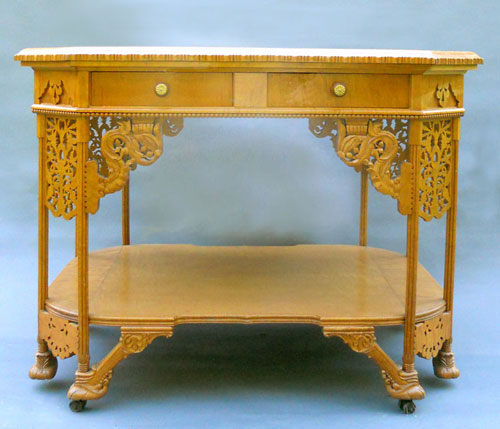 AMERICAN AESTHETIC MOVEMENT TABLE
Curly Maple and Onyx or alabaster,
Circa 1885, Height: 30 inches, Width: 40 inches, Depth: 28 inches

I have not yet been able to determine with certainty who made this incomparable table. The unusual sideways placement of the feet have an obvious relationship to feet I've seen on seating furniture made by Pottier & Stymus. The Newark Museum has a china cabinet with related feet although the paws on the Newark piece are less sophisticated and imaginatively stylized. Other elements like the beading and exaggerated, proscenium-like brackets suggest Mitchell & Rammelsberg. Versions of the lotus-like bellflowers appear on signed M & R rococo revival pieces although the overall design of the table is unlike that company's style. I was immediately taken with the obvious Moorish or Asian influence, but it took me a while to decide which part of Asia I was seeing; neither Persia nor China seemed right. Then I remembered Malaysia, but that seems improbably esoteric even though the fretwork and leaf motifs are much like those found on that country's traditional woodcarving. The Cincinnati Art Museum has a Mitchell & Rammelsberg maple bedroom suite in the Japanesque style, but its Orientalism is far more conventional and relates to the Aesthetic movement furniture of Kimball & Cabus or even Herter Brothers.

"Turkish" salons were a very popular among the tastemakers of the Gilded Age: Ruggles Morse had a Turkish smoking room built into the tower of his house in Portland, Maine, John D. Spreckels had Herter Brothers do up a Turkish salon for his San Francisco house, and Henry Marquand had a Moorish table similar in form to this maple table made in satinwood for his New York City house. Associated Artists is thought to have provided the furniture for the Marquand house, but they did not actually make the furniture they supplied, which was built by a variety of companies including Herter, Pottier & Stymus, and A. H. Davenport.
The translucent brown and gold stone is of specimen quality and has an unusual satin finish so the table may have been custom made and the curly maple selected to compliment the colors in the intricately figured stone. The stylized chrysanthemums of the brass roundels on the drawer knobs carry out the Asian theme.

The bottom of the drawer is made from cedar. The dovetails are expertly cut, which is atypical for Mitchell and Rammelsberg. The unmarked casters have wooden wheels and appear to be original. Apparently the stone was stabilized along two natural fault lines at a later date as was the bottom shelf.