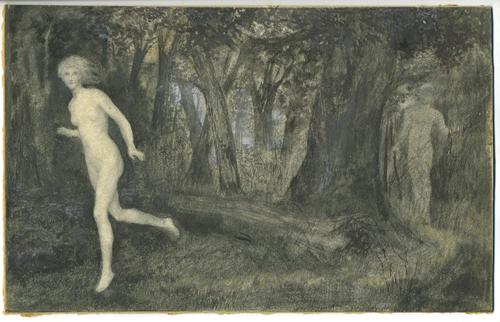 EDWARD COLEY BURNE-JONES, Bt., A.R.A., R.W.S.
1833-1898
Daphne and Apollo, circa 1875
Charcoal enhanced with ink and gouache on laid-down paper
6.75 inches by 10.75 inches (sight)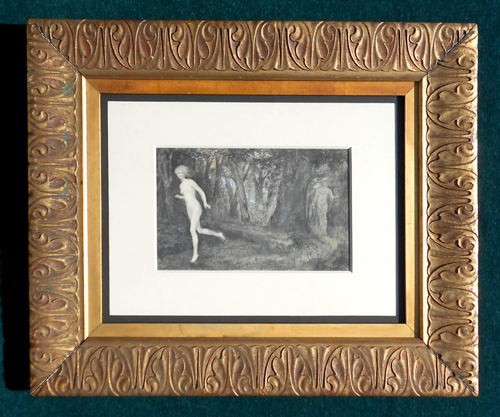 Frame: circa 1900
I have not been able to find a finished painting of this subject by Burne-Jones, so I am only guessing that it is Daphne pursued by Apollo just moments before her father changed her into a laurel tree. However indistinct the signature, the technique is clearly that of Pre-Raphaelite Edward Coley Burne-Jones. Many of the artist's drawing are signed with his initials
American Jane Byrd McCall and Englishman Ralph Radcliffe-Whitehead met Burne-Jones in England before they were married in 1892. The couple purchased several works directly from the artist as well as a William Morris/ Burne-Jones tapestry that once hung in the library of the Arts and Crafts colony they founded called Byrdcliffe. The tapestry and all the other Burne-Jones art the Whiteheads owned are now lost except for this drawing, which remained in their family until 1976 when their son Peter died.
.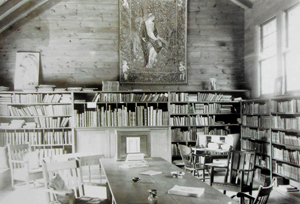 Interior of the library at Byrdcliffe showing Burne-Jones-designed tapestry, circa 1907
.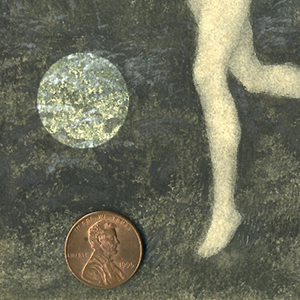 Signed lower left with indistinct "E. B. J." and date under the ink

.

Examples of Burne-Jones initials from other drawings