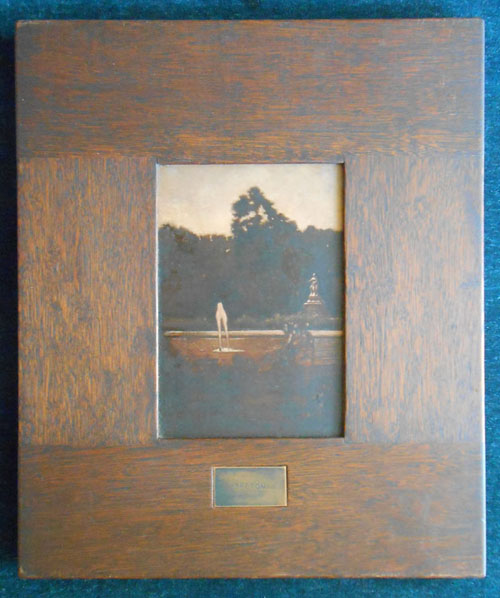 "BRETON," THOMAS CHIMES
Oil on panel, 14 inches by 12 inches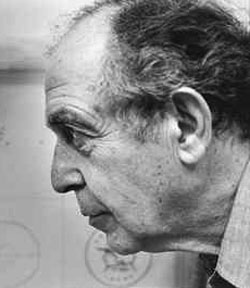 Thomas Chimes (1921-2009) was born to Greek immigrant parents in Philadelphia. In September 1939, Chimes enrolled at the Pennsylvania Academy of the Fine Arts, where he studied with Daniel Garber, Henry McCarter and Francis Speight. The artist continued his education at the Art Students League in New York in 1941, but his studies were cut short by the Japanese bombing of Pearl Harbor, which led him to enlist in the United States Army Air Force. Following the end of World War II, Chimes completed his education at the Art Students League, where he studied with Reginald Marsh, Will Barnet, Vaclav Vytlacil, and John Hovannes.
Chimes was struck by the raw emotional impact of Picasso's monumental anti-war painting, "Guernica," which he saw at the Museum of Modern Art in New York in 1946. Although he initially resisted aggressive modernity, Chimes thereafter took a strong interest in contemporary art. While a student in New York, Chimes became acquainted with contemporaries such as Jackson Pollock, Barnett Newman, George Constant and Tony Smith.
Chimes developed a rich personal iconography drawing on childhood memories, dreams, and associations that were often colored by his readings of Alfred Jarry's iconoclastic novels and plays.
Chimes had numerous solo exhibitions, including "Thomas Chimes: A Retrospective Exhibition," at the Ringling Museum of Art, Sarasota, in 1968; "Tom Chimes, A Compendium: 1961-1986," at Moore College of Art in Philadelphia in 1986; and "Thomas Chimes: Survey" at the Alexander Onassis Center for Hellenic Studies, New York, in 1994. In 1975, his work was included in the Whitney Biennial, and in the following year he was represented in the Philadelphia Museum of Art's landmark exhibition "Three Centuries of American Art." His work is included in many major American museum collections, including The Museum of Modern Art in New York; the Wadsworth Atheneum in Hartford, Connecticut; the Phoenix Art Museum; the Delaware Art Museum; the Pennsylvania Academy of the Fine Arts; and the Philadelphia Museum of Art, which in 2007 mounted a retrospective called, "Thomas Chimes: Adventures in 'Pataphysics'."
"Breton," (plate 70 in the 2007 retrospective exhibition catalogue) is one of two "portraits" of André Breton painted in 1977. The other depicts a leather glove. Chimes found significance in the fact that "Breton" is the only landscape in his series of portraits inspired by Alfred Jarry's spurious philosophy dubbed "Pataphysics." The paintings in this series have wide wooden frames reminiscent of the American Arts and Crafts era. "Breton" was acquired directly from the artist in 1977.