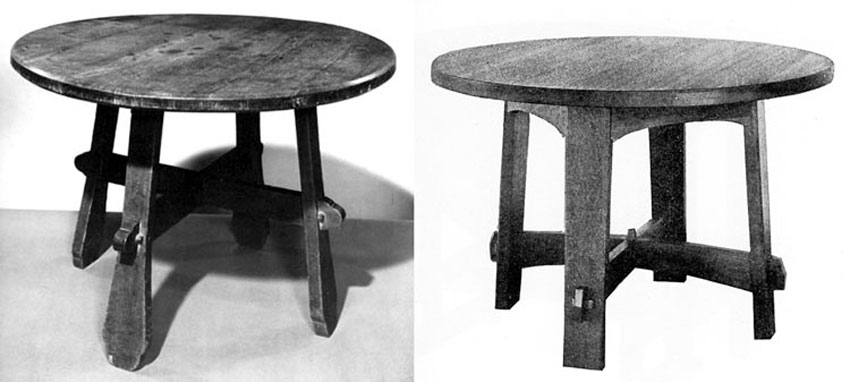 One need only to consider the G. E. Street table designed around 1854 for Cuddesdon College, Oxford, England to see how Stickley's 1901 "Bungalow Table" (catalogue number 15) presents a problem for those who like to think of Stickley as progressive or innovative.
Tucker thanks a Dr. Barnes for cluing him in about the wide use of fumed oak in the American furniture industry—perhaps he could have learned more if the doctor hadn't skipped out on the project. Tucker believes Stickley chose to use quartered oak to escape the common association with inexpensive, cheaply made, highly polished, "golden oak" furniture apparently unaware that golden oak could be and often was quartered and fumed. A. H. Davenport made expensive, highly polished furniture from golden quartered oak. Ignoring the many colorful stains developed by the afore-mentioned Kendall, Tucker writes, "Stickley's factory records suggest far more complexity and experimentation in color schemes and finishes than remains today—and in comparison with that of his contemporaries producing Mission furniture." See what I mean about judgments? Stickley produced complex, experimental Arts and Crafts furniture while his contemporaries produced mere Mission furniture.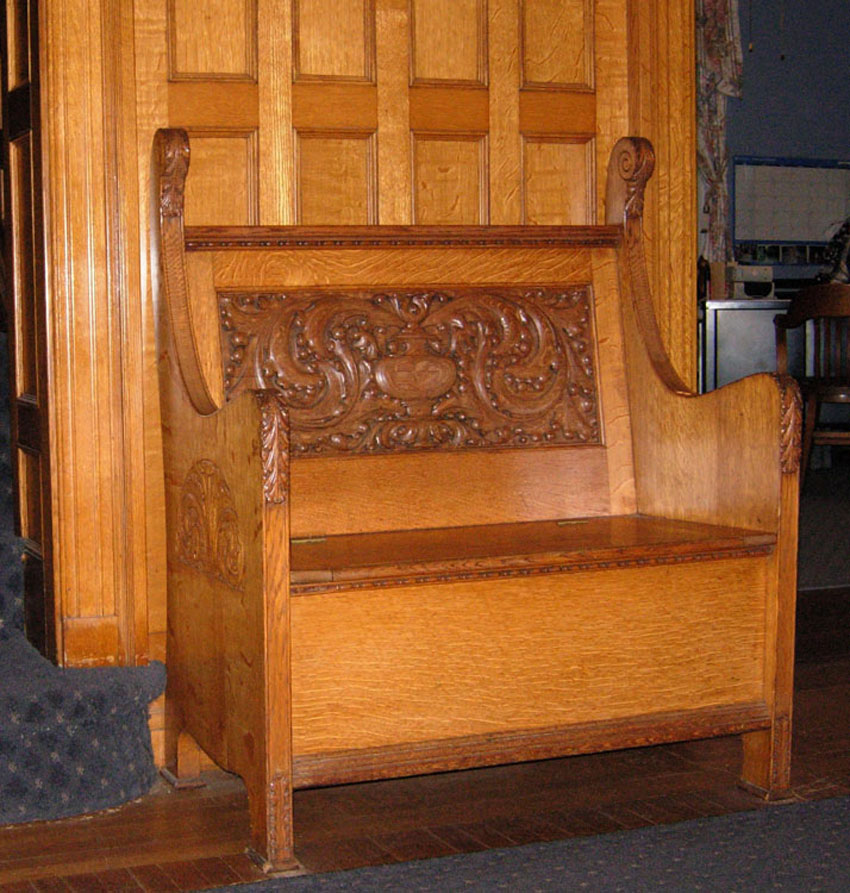 A. H. Davenport golden, quartersawn oak that is "convenient, harmonious, and related in all its parts" despite the hand-carved embellishments that the authors of the Stickley book would eschew because Davenport did not reject "surface ornament in favor of presenting form honestly in the service of beauty."
Another solipsistic doctor (who also pulled out early) exacerbates the misunderstanding about oak: "[Irene] Sargent's explications of Stickley's goals established as doctrines the anti-ornamental, rectilinear style of his furniture and the use of oak and other humbler woods rather than finer materials." Oak was never not fine.
But oak is coming to its own again. It is bound to. Not only in the cheap golden-oak furniture and in the solid mission and craftsman styles, but in simple wax finishes that leave it stand on its own merits. It is in improved methods of finish, in fact, that its salvation lies. Whether carved or plain, whether fumed or silvered. Whether dull or highly polished, it is beautiful, and in the best antique finishes it surpasses all other woods for library and dining room.
American white oak is a hard, durable, strong wood, which, when quarter-sawed, shows a wavy cross grain that is peculiar to the wood and exceedingly beautiful. To cover this grain with a dark stain is to hide much of its beauty. But white oak is not naturally beautiful in color and we cannot wait for the mellowing effects of age. The fumes of ammonia are therefore resorted to, which, entering the dark pores, darken the wood not merely on the surface but to a considerable depth. A filler may be applied, for the grain of oak is coarse and needs it, and a French polish may be given as a final finish. The dull wax finish, however, is what is making oak popular again. This produces a durable surface to withstand the wear of usage, and yet leaves it in nearly its natural condition. With the occasional application of a little wax and elbow grease oak furniture thus finished will last for generations.
Walter A. Dyer "A Plea For Oak; The Foremost American Wood in Quality and Beauty of Grain;" Arts and Decoration, December 1910
For centuries, oak was used for all grades of cabinetmaking in much of the world; on the other hand, cabinetmakers supplying the finest furniture to rich Americans seldom used curly maple. However, rural craftsmen like the Dunlap family of New Hampshire made use of it for furnishing local homes with glorious results. The surface of a solid curly maple board has a rippled texture caused by the same pattern of hard and soft wood that gives it a fiery color contrast. In the sense that it was not considered to be a high-class wood, I suppose Stickley's use of it is in accordance with his democratic ideals. In every other sense, Craftsman curly maple is abysmal. Although you'd never realize it from the long catalogue entry for catalogue number 53, much of the chest of drawers is covered with a thin, cheap, lifeless veneer, which negates everything the book says Stickley stood for. I, as a lover of Federal furniture, have nothing against veneer and I think the design of the chest and the other pieces related to it is handsome even if it is not appropriate for Stickley propaganda. But if we're going to pretend Craftsman furniture is essentially hand-made and that visible handcraftsmanship is important, we can't gin up virtue in this piece.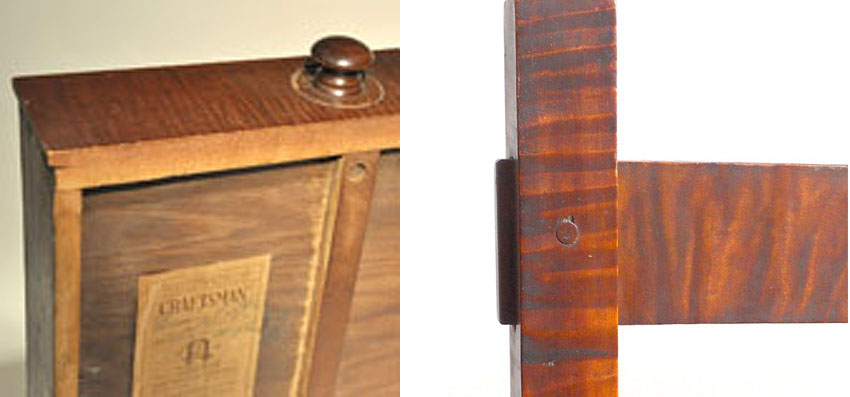 The drawer on the left is from a "silver gray maple" chest like the one in the exhibit. It is a "cheaply decorative production" if ever I saw one, having a plywood bottom and a lifeless veneer that is too thin to withstand even normal wear and tear. The detail on the right is from a homemade chair ("Art That Is Life," 1987, MFA,B page 382) constructed from solid curly maple with a robust pattern and a vivid, flame-like color.
The book has a catalogue section and a section called "Notes on the Catalogue" and a checklist of the exhibition, which thwart its function and utility. The catalogue section has lavish, out-of-numerical-order, full-page color photographs of some of the objects in the show. Some objects rate multiple photographs and long text descriptions while others have the same minimal notations as the numerically ordered checklist. The "Notes on the Catalogue" are tied to page numbers, not catalogue numbers; there are no notes for many objects. The Dallas linen chest gets four pages of analysis and photographs with copious notes while a curtain panel gets just two pictures with no analysis or notes and a reclining chair gets one photo and half a page of text and four notes. Hodgepodge? A sketchy provenance is given in the checklist for a few objects—primarily the model dining room pieces––but not for most. I wanted to know more about the extraordinary curtain panel (catalogue number 88, pages 208 and 209) because the very sophisticated design is so like Prairie School-style designs such as the rugs George Mann Niedecken designed for Frank Lloyd Wright's Bogk house. Although the border is very similar to a design published in a 1908 Craftsman, the technique and central design are not at all typical of Craftsman darned net curtains, yet there is nothing to tell why the panel was not made by one of the other artisans who produced darned curtains identical to and indistinguishable from Stickley's. Perhaps newbie Tucker subscribes to the "Don't ask, don't tell" rule, but we old-timers could tell the provenance of many pieces and that provenance is itself telling.


The darned net curtain in the center has no identifying mark, but it came from the Louise Stickley estate sale so it is reasonable to attribute it to Gustav Stickley's Craftsman enterprise. Without such a provenance, I don't think curtains like these can be attributed to a specific maker.
A detailed provenance might answer some of the questions Tucker stops short of asking. He decides the exposed laminations on the Eastwood chair exhibited suggest "the inevitability of slight variations in an essentially handmade object." Will Price abhorred the use of such laminations to achieve unnecessarily gigantic proportions. Referring to a dining table much like some Craftsman extension tables, he wrote, "This central leg would if solid safely hold twenty tons… It is just as bad construction to use too much wood as too little."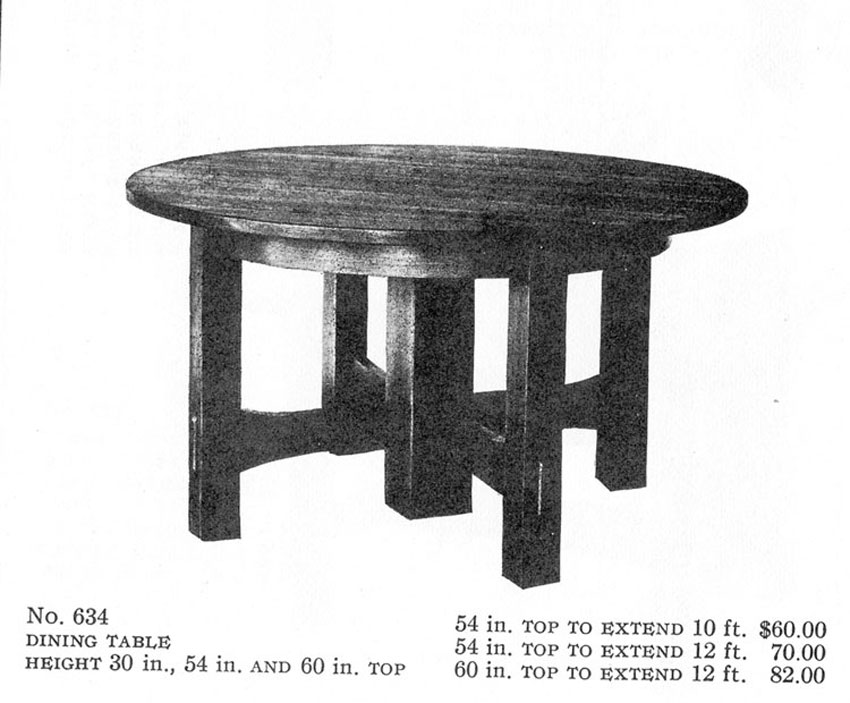 Stickley usually faked solid wood by covering laminations with veneer. Back in the day when I kept an inventory of early Stickley, I was often frustrated by those veneers, which didn't hold up well especially where they got a lot of use. We found great early pieces spoiled by chips and cracks to the veneer, which were difficult to repair and disguise. One option was to replace the whole strip of veneer and severely compromise the value of the object. Another option was to remove the veneer, refinish the exposed laminations, and market the result as "slight variations in an essentially handmade object." We chose the former; more venal dealers chose the latter. I couldn't study the reclining chair (catalogue number 32) in the exhibition, but in the book, it looks as if the fronts of the front legs still retain the original veneer. If they do, it is quite likely that the mismatched laminations on the sides of the legs would also have been covered with veneer to give the appearance of solid pieces of wood. Provenance could tell the truth.


The laminated legs on this Gustav Stickley library table have been disguised with panels of quarted-oak veneer. The circular detail shows how the veneer cracks along the lamination joints beneath when they expand or contract from changes in air temperature and humidity. L. & J. G. Stickley devised a more stable system for using small cuts of wood to glue up large legs.
Books like this are usually edited by people who can get most of the grammar right, but who have no expertise in decorative arts, which leaves content with the potential to embarrass the authors and confound the reader. By my count, Dallas director Bonnie Pitman tries four times within two paragraphs to describe Stickley's importance and still gets it wrong:
"In seeking to encourage a national shift in taste away from cheaply decorative production toward radically bold, structural designs, Stickley stood both as businessman and proselytizer—and his has become one of the most familiar names associated with the American Arts and Crafts movement."
I'm not sure I can visualize something that is "cheaply decorative" but if it existed, I am sure the part of the nation that could afford taste had a taste for expensively decorative production as well. Stickley's vision was larger than seeking to shift taste toward the radically bold and structural aspects of his designs; he wanted to show Americans how to make or find new or old household furnishings imbued with a specific kind of simplicity that could transform everyday living into a beautiful experience. There's nothing radically bold or structural about a hand-hammered copper tray.
David Cathers knows more about Gustav Stickley than anyone alive, but when it comes to putting the Craftsman furniture enterprise into a larger social context, he also gets the equation wrong. Explaining why Stickley focused on the middle-class market, he writes,
"This is not surprising: Working-class people couldn't afford such furniture and the wealthy continued to prefer ostentation."
Many wealthy people are ostentatious, but that does not mean the upper class prefers ostentation or that the middle class isn't just as prone to ostentation: A Marshall Field ad for United Crafts furniture in the December 1902 issue of The House Beautiful offers a chair finished in "Baronial Oak!"
The difficulty of unknotting some of Tucker's sentences can cause a reader to lose his line of thought:
"However, as his brother Albert's firm maintained in London, Stickley did not have a commercial presence in Great Britain"—a simple fact turned into a cheaply decorative production.
"Within the span of a dozen years, his employees created hundreds of creative new designs for furniture, metalware, lighting, and textiles; designs for more than 250 homes that were constructed across the United States; and, through articles and other contributions to The Craftsman, undoubtedly influenced the design of countless others."
Okay, "created creative new designs" was easy but still fun, right? Now for the hard part: Were more than 250 homes built across the United States from the creative designs Stickley's designers created or did they create more than 250 different creative house plans, which were used to build a few houses located in every part of the United States? Did house designs published in The Craftsman influence countless other house designs or did the creative new designs for furniture, metalware, lighting, textiles, and homes influence countless other designs for furniture, metalware, lighting, textiles, and homes or did Stickley's designers influence the design work of countless other designers?