REVIEWING THE SITUATION: Art in Decorative Arts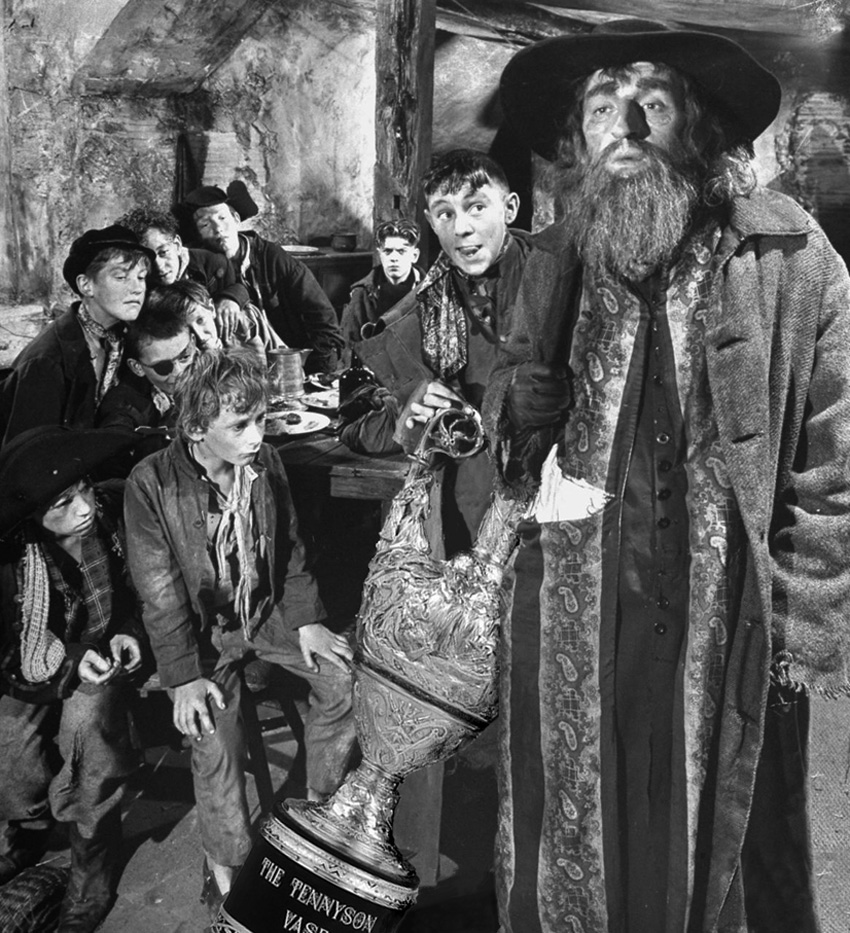 The objects in "Inventing the Modern World: Decorative Arts at the World's Fairs, 1851-1939," represent issues that, for me, are more important than the titular investigation into what modern was. The exhibition title and the catalogue text do not and do not need to ponder distinctions between Art and craft. However, the exhibition context—the Carnegie Museum of Art—mandates aesthetic assessment of the craft processes that produced the objects chosen for exhibition. Before going to Pittsburgh, I believed what I read, namely that Arts and Crafts movement philosophers like William Morris had elevated handcrafted household furnishings into the sacred realm of fine art nearly 150 years ago. The exhibition made me "think I'd better think it out again" because any such transubstantiation seems far from being a done deal. All of the objects in the exhibit are products of highly developed craft skills, but the processes by which they were made do not make the results Art.
I always like to read how exhibition organizers define their productions before I view a show or read a catalogue:
This groundbreaking exhibition explores the ingenuity and craftsmanship of decorative arts made for world's fairs, from London's Great Exhibition of the Works of Industry of All Nations in 1851, to the New York World's Fair in 1939. During this period, the fairs were the most important vehicles for debuting advancements in modern living, democratizing design as never before. Inventing the Modern World showcases approximately 200 examples of the most extraordinary works of furniture, metalwork, glass, ceramics, textiles, and jewelry produced by leading international artists and firms, including Lalique,  Sèvres, and Tiffany. These exceptional and singular objects—some never before seen in the United States—represent the pinnacle of scientific and artistic achievements of their time. Inventing the Modern World breaks new ground in its exploration of innovation in decorative arts.
The catalogue preface states, "The world's fairs marked the first time in the modern era that extensive information was written about process, materials, invention, and derivation, based upon the products shown at the exhibitions": Extensive information about process, materials, invention, and derivation had been available to designers and manufacturers for centuries; it just couldn't have been based "upon the products shown at the exhibitions" because those products, world's fairs, and the modern era didn't exist before 1851. The most one can say is that the fairs were a new, more efficient method of disseminating such information. But public relations carnies must tout productions like this exhibition and catalogue by using hyperbolic terms like "first," "never before," "heretofore unpublished," and "groundbreaking" initially to solicit the indecent amount of money required to mount such productions and then to hook a jaded general public. As so many of the extraordinary objects in this exhibition demonstrate, being first is not necessarily a validating characteristic.
"During this period, the fairs were the most important vehicles for debuting advancements in modern living, democratizing design as never before."
Only a few of the magnificent, often unique, objects shown in this exhibit had anything to do with "advancements in modern living" and even the futuristic, mass-produced objects from the early 20th century fairs did little to democratize design. As Kevin Tucker points out in his essay, "Style Through Science: Modern Industrial Design and the World's Fairs of the 1930s," well-to-do middle-class visitors to the 1939 fair may have found a template for modern living in the many model home environments on display, but fair exhibitors realized that the average home was " 'decorated with objects that are not too modern'": "The aesthetics of industry, particularly as directed to the individual consumer and championed at the fairs, remained largely deferential to popular fashion in reproducing and reinventing styles of earlier eras…"  My less-than-well-to-do parents spent their honeymoon at the 1939 New York World's Fair and brought a set of plastic salt and pepper shakers fashioned after the fair's symbols the Trylon and Perisphere back to their "not too modern" Maine home, which was furnished with "rock maple" armchairs featuring chunky turned legs and odd wooden "wings." Neither the salt and pepper shakers nor the rock maple chair survived four rowdy, careless siblings and various demented, handicapped in-laws so it was probably just as well that the honeymooners didn't bring back glass furniture.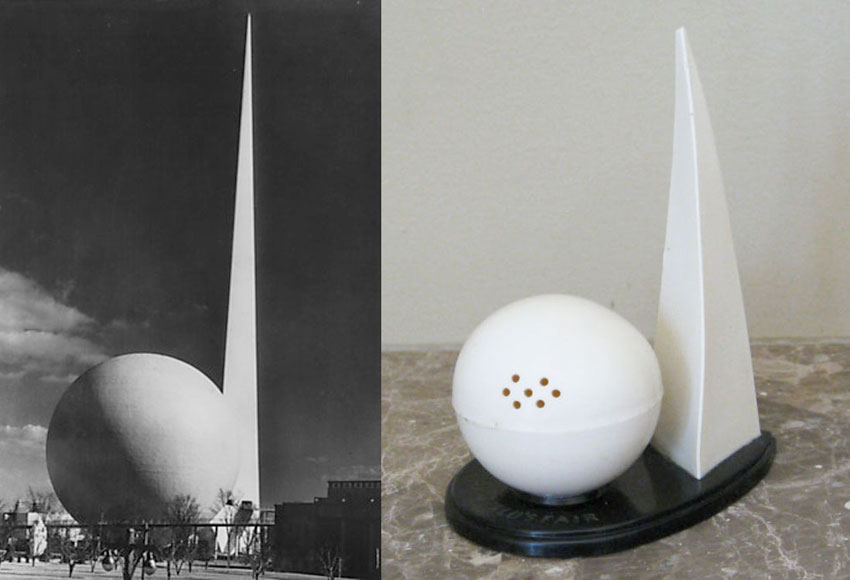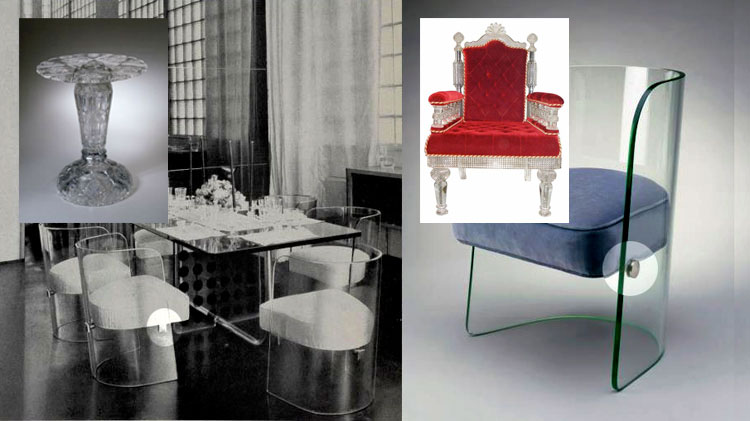 Although the processes of making, bending, and tempering plate glass were new when Pittsburg Plate Glass furnished a suite of rooms at the 1939 New York World's Fair, glass furniture was not new. Victorians from Russia to India favored fancy cut-glass furniture and a glass table, the centerpiece in the Libbey Cut Glass Company's display, won a grand prize at the 1904 St. Louis world's fair. Details on Carnegie's glass chair differ from those of the chairs shown at the 1939 fair in that they have squared rather than rounded corners at the front of the bottom edges and the seat supports are held in place with round rather than square metal caps.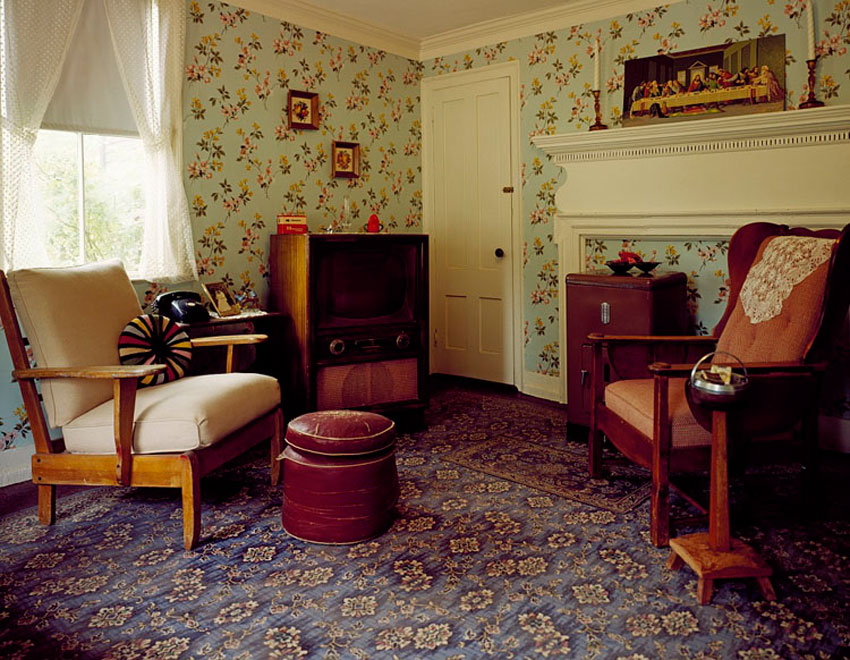 I intended to use a snapshot that showed how our house in Falmouth, Maine was furnished in the 1950s, but none seemed to show enough furnishings so I was pleased to find this image of a New Hampshire living room now preserved at the Strawberry Banke Museum in Portsmouth; it's actually much better because it is typical rather than specific. We didn't have Leonardo's "Last Supper," such a modern telephone, or a television, and we lived "year 'round" in a shingled summer cottage, built around 1890, but there's the maple wing chair!
Most of the fabulous objects on display at the fairs and at Carnegie were modern only in the sense that they were made when they were made; they sustained rather than advanced a way of living for a very few, very rich people. If the etched Baccarat glass punch bowl (Cat. 28) were for actual use and not a virtuosic bid for an exposition gold medal, a far-from-modern corps of servants would have been required to place the gigantic under plate on a refreshment table and set the heavy bowl on it; to fill the bowl with punch poured at a temperature that would not crack the glass, to serve the punch by removing the ponderous glass lid and dipping out the liquid with a glass ladle; to retrieve the glasses from tipsy revelers, to carry the service away to the scullery to be washed, dried, and placed back on the pantry shelves without chipping or cracking the precious and frighteningly fragile glass. How many heads would have rolled if any such irreparable damage had occurred? Even with the most modern climate control and with an army of museum technical assistants wearing white gloves on every hand using mountains of padding, what risk with every move! However amazing the acid etching (in 1867 a relatively new process that imitated laborious wheel engraving) on this "

exceptional and singular

" object might be, the real miracle is that all the parts survive in apparently perfect condition.

 
Cat. 29: The 1867 Bettridge papier-mâché piano is nearly identical in design to the piano the--presumably wooden--upright piano the Schomacker Piano Manufacturing Company exhibited at the 1876 Philadelphia Centennial.

Cat. 28: Punch Bowl with Tray, Goblets, and Ladle, Circa. 1867, Overall: 23 inches by 13 7/8 inches, Cristalleries de Baccarat, France, Lunéville

.Same with the papier-mâché piano case (Cat. 29) or the sapphire-encrusted Tiffany iris brooch (Cat. 19), they are little more than spectacular examples of materials and techniques that have been around for centuries. Papier-mâché was used in ancient Egypt, Persia, China, and Japan. Carnegie director Lynn Zelevansky claims the technique was used in this instance because it was cheaper (thus "democratizing"?) than making the same sort of elaborately inlaid case out of wood—of course expense was not a consideration for the makers of this unique object, which was never going to be mass-produced for middle-class consumption. In fact, wood would have been a cheaper, stronger, more practical way to go; craftsmen had been gluing more elaborately inlaid decorations on wooden carcasses for centuries. Indeed, I would be willing to bet that the pulped paper is only a showy cover-up for a stronger metal or wood framework. Co-curator Jason Busch remarks that the piano's reverse-painted glass panels get their sparkle from an aluminum-foil backing, noting that aluminum was a "relatively new" material. However, "new" does not equal "modern" in this application; painted glass and even gemstones had for centuries been backed with shiny foils to make them more dazzling. So, to my mind, the improbable, impractical (it doesn't house a very good musical instrument) piano case, in the form of any standard upright piano of its era, was made only because it could be made and not because the makers intended to contribute to the invention of a modern world.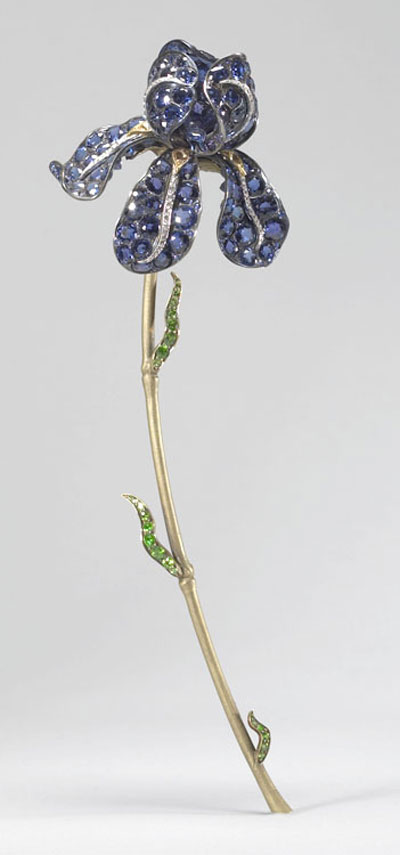 Cat. 108: Corsage Ornament, Tiffany & Co., 1900, 9 ½ inches by 2 ¾ inches

The eponymous Tiffany family--Louis Tiffany and Tiffany & Co.--sold exquisitely made objects to the carriage trade. Some of their production was what could be called modern design, but, modern or derivative, no Tiffany object could exist without painstaking handcraftsmanship that took centuries to develop and decades to master. Certainly the techniques used to cut and grind the Montana sapphires (Sapphires were discovered in Montana in 1865. The iris brooch was made around 1900.) set in the Tiffany & Co. iris corsage so that they would glint and sparkle on an American grand dame's heaving and ample bust were "relatively new." And a piece of jewelry might not have been so naturalistic in earlier times, although I remember seeing some ancient wreaths composed of laurel leaves hammered to trembling realism out of thin sheets of gold. The Italian jeweler Castellani fashioned a ham-handed version of antique wreaths (Cat. 18) for the 1862 International Exhibition. But really, neither the Castellani diadem nor the Tiffany brooch is significant for its modernism; they are just eye-catching and that alone may be enough despite French critics at the time, who found the dazzling American creation to be gauche precisely because of its unabashed opulence.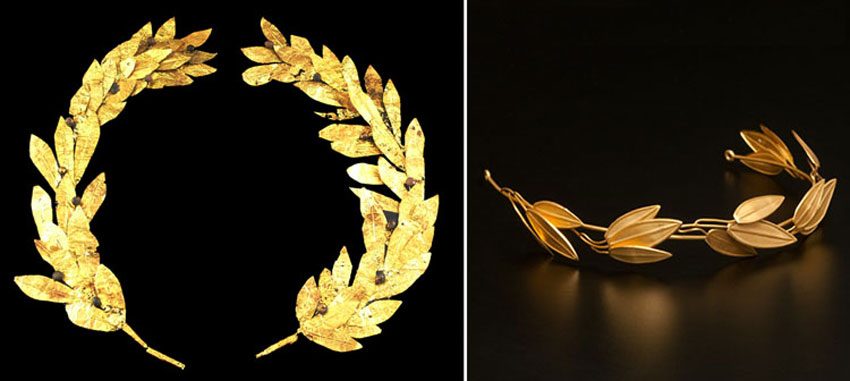 On the left is an ancient gold laurel wreath, which was probably made in the third or fourth century, BC. The Castellani version (Cat. 18) on the right was made circa 1860.
| | | |
| --- | --- | --- |
| Outstanding among the other Tiffany extravaganzas that pervade the exhibit is the so-called "Viking Punch Bowl" (Cat. 87). Its Norse motifs make me wonder if "fashionable" is part of the definition of  "modern." Catalogue essayists wrestle with the historicism that suffused designs displayed at the fairs. They dance around dichotomy with diversionary, dissembling moves, but Tucker is the only one nimble enough on his feet to avoid bumping into inconvenient truths that might contradict the exhibit theory. Others sidestep contradictories by predicating their positions with the dogmatic "undeniable." As you might guess, that adjective is a red flag to me, and I immediately begin the game of listing all the ways I could deny their dictums. | | |
In "From Progress to Modernity: Invention and Innovation at the World's Fairs," Regina Blaszczyk imagines that consumers of the objects discussed and illustrated in the catalogue "inhabited a treasure-chest world" and kept their possessions, which represented the "apex of science and technology," for decades with the idea of passing them down as heirlooms.  She calls them "high-tech baubles" and compares them to twenty-first century electronic toys like iPads; the former, she says, admired for what they looked like, the latter for the content they deliver. Her theory--that everyone could fill their "treasure-chest worlds" with jewel-encrusted handmade heirlooms representing "the apex of science and technology"--is supported by the selectivity and limited scope of the exhibition, which deals only with the most precious decorative arts, ignoring the myriad displays of scientific inventions; marvelous new machinery; medical and educational advancements; agricultural developments; zoological and ethnic oddities; and amusements that overwhelmed the decorative-arts displays.  The prize-winning tours de force that are now elegantly installed at the museum, serenely isolated under pools of sexy lighting, were often lost in the fair booths where they were jammed chockablock together and stacked among dozens and dozens of similar tchotchkes. 


Left: The Brazilian pavilion at the 1876 Philadelphia centennial; Center: The prize glass table in the Libbey Cut Glass Company display at the 1904 St. Louis fair; Right: A sculpture display at the St. Louis fair.
Art museums now lump all manner of product from a hairpin to a table lamp to a piano into one catchall category labeled "decorative art." At the fairs such objects were sprinkled into multiple departments in different buildings spread all over the fairgrounds. A fair guide demonstrates why it is problematic to suggest that a single anomalous pitcher (Cat. 105) or a lacquered tortoise shell (Cat. 38) contributed to the invention of the modern world:

The Official Catalogue of Exhibits, Universal Exposition, Saint Louis, 1904 lists each state in the United States in addition to some 43 other countries from "Argentine" to Syria. Each state and each country had exhibits in each building among which there were many "palaces." In "The Palace of Education and Social Economy" in Block 12, Aisle E, Italy showed "Objects in wood, iron, stone, and drawings made by the students at the Arezzo "Evening and Sunday School for Trades." Marjorelle Bros. exhibited "Artistic furniture" in "Group 37, Decoration and Fixed Furniture of Buildings and Dwellings" of "Department D—Manufacturers," France. At "The Art Palace" the United States exhibit was broken down into 10 categories: "Oil Paintings," "Mural Paintings," "water Colors and Pastels," "Miniatures," "Illustrations," "Engravings and Lithographs," Sculpture," "Architecture," "Loan Collection," and "Applied Art." "Art work" in glass, metal, "earthenware," leather, textiles, and bookbinding along with Class 45: "Art work worthy of representation which is not covered by any of the preceding classes of this Group or other Groups of the Department of Art."

Eva Adams showed a mayonnaise bowl in Saint Louis, Blanch Budd showed a bronze candlestick, William Fuller Curtis showed a panel of burned and carved wood, Rose and Minnie Dolese showed a leather cushion, "Zuni Indian" men showed a drill used to drill wampum, and Will Price showed a Gothic table in the applied arts section. Apparently exhibition committees were not immune to lobbying; Paulding Farnham's 15 entries got unusually extensive descriptions and Tiffany & Co. got prominent billing: Number 161 was the "Madura vase, Javanese. Hammered into shape from one plate of fine gold into the complete shape without a seam. Enamelled and set with vari-colored sapphires." With that description how could Rose and Minnie's cushion hold the interest of the prize juries? Sculptor Paul Wayland Bartlett's many vases were displayed in the sculpture section and not among the applied arts. In a separate listing Tiffany & Co. also lent numerous works designed by Louis C. Tiffany. The Gorham Mfg. Co. lent an ebony, ivory, pearl, and silver table designed by William Christmas Codman. The Rookwood Pottery lent ceramics painted by Matt Daly, Edward Diers, and Marianne Mitchell among others. Artists from other art potteries like Addison Le Boutillier from Grueby Faience and Artus and Anne Van Briggle exhibited under their own names in the Applied Arts section of the Art Palace and under their company's name at the Palace of Varied Industries and the Palace of Manufacturers.

"The Palace of Liberal Arts"--where there were displays of bookbinding; musical instruments; artificial textile fabrics; commercial India rubber (gutta percha); theatre costumes and scenery; coins and medals; and paper for wallpaper, cigarettes, papier-mâché, artificial flowers; and imitation lacquer --held even more objects that helped to invent the modern world. The Oliver Typewriter Company listed all their gold medals from previous world's fairs. William Schlipf showed miniature books (iPhones?); Victor talking machines and National (Thomas Edison) phonographs were shown among Regina music boxes, Consalvi banjos, Baldwin pianos, and Estey organs—surely these were the "high-tech bauble" equivalents of today's "electronic toys."

 "The Palace of Varied Industries" and "The Palace of Manufacturers" held a plethora of what we now deem to be "decorative arts" thoroughly mixed with corn-cob pipes and pickle cabinets, most of which would have been carved or otherwise tarted up especially for the fair competitions; indeed many companies not only trumpeted the awards they garnered from earlier expositions but also exhibited the same objects again and again, sometimes over a period of more than ten years. As much as the fine craftsmanship lavished on unique objects made specifically for fairs is as worthy of admiration now as it was then, I do not see how it invented a modern world in any sense of the word "modern" other than in the sense of the present-day of any particular fair.  I have compiled a partial listing (see sidebar) of United States exhibitors at the 1904 St. Louis fair to show how difficult it is to identify what is or is not decorative art. If the fairs did invent modern worlds, they were more easily seen in the palaces of machinery, electricity, transportation, agriculture, mines and metallurgy, anthropology, education, physical culture, or "Social Economy," where the Chicago Hospital School for Nervous and Delicate Children exhibited "methods and devices used in treating sub-normal children."

Group 28, Stationery:
  Office furniture
    The Art Metal Construction Company
    Globe Wernicke Company
  Desk Furnishings
     The Art Crafts Shop
     The Esterbrook Steel Pen Company

Group 30, Silversmith's and Goldsmith's Ware
   Art Crafts Shop
   Gorham Mfg. Co.

Group 31, Jewelry
   Art Crafts Shop
   Mary A. Gardiner ("fish scale jewelry")
   New Jersey Aluminum Co.
   Porterfield Turquois Mines Co.

Group 32, Clock and Watch Making
   American Electric Novelty & Mfg. Co.
   Herschede Hall Clock Co.

Group 33, Productions in Marble, Bronze and Iron
  Art Crafts Shop (art metal goods)
  Gorham Mfg. Co. (bronzes)
  Charles Lippencott & Co. (soda fountain apparatus)
  M. H. Wiltzius Co. (statuary)

Group 34, Brushes, Fine Leather Articles, Novelties
   Art Crafts Shop ("Fancy articles")
   Gorham Mfg. Co. ("Fine leather articles")
   Navajo Indian Blanket Stores Co. ("Fancy work made by Indians)
   Pacific Jewelry & Curio Co. ("Abalone shells and novelties in over 2,000 styles…")
   H. Tibbe & Son Mfg. Co. (corn cob pipes)

Group 37, Decoration and Fixed Furniture of Buildings and Dwellings
   Charles Lippencott & Co. (soda fountain apparatus)
   American Encaustic Tiling Co.
   Rookwood Pottery Co.
   W. l. Teed, Sons & Co. ("Banana tree and pickle cabinet")

Group 38, Office and Household Furniture
   Berkey & Gay Furniture Co.
   Century Furniture Co.
   Grand Rapids Fancy Furniture Co.
   S. Karpen & Co.
   The Quaker Shops ("hand made furniture")
   Stickley Bros. Co.

Group 41, Hardware
   New Jersey Aluminum Co.
   Smith & Davis Mfg. Co. ("metal beds and wire mattresses")
   Zeno Mfg. Co. ("Dumbbell and exerciser")

Group 42 Paper Hanging
   Robert Graves Co. (wall paper)
   Leatherole Company (wall coverings)

Group 43, Carpets, Tapestries and Fabrics for Upholstery
   Bigelow Carpets
   Philadelphia Tapestry Mills
   Standard Table Oil Cloth Co.
   Pantasote Leather Co. (Panasote leather substitute upholstery was the original and is the standard leather substitute upholstery material. Highest World's Fair medal 1903, 1896,1899, 1901

Group 45, Ceramics
   American Terra Cotta & Ceramic Co.
   The Carborundum Co. (exhibited at the Palace of Machinery)
   Grueby Faience Co. ("Pottery, lamps and decorated tiles")
   H. O. Punsch ("vases, table tops, tankard, portrait of Wm. McKinley's mother")
   Rookwood Pottery Co. ("ornamental faience")
   Sisters of St. Francis (China Painting 'Ecco Homo,' decorated vase")
   The Van Briggle Pottery Co.

Group 47, Glass and Crystal
   Bent Glass Novelty Co. ("Art glass, lamps, etc.")
   Libbey Glass Co. (cut glass)
   Mississippi Glass Co. ("rolled figured glass, wire glass, glass tubes, ornamental    building glass")
   Quaker City Cut Glass Co.




Cat. 64: The Conglomerate Vase, Tiffany & Co., 1878

The Tiffany name dominates "Inventing the Modern World" and gets its own essay in the catalogue, so it is worthwhile to consider how they saw themselves in relation to their world. While companies like Gorham and Rookwood exhibited in multiple palaces at the St. Louis fair, the Tiffanys exhibited only in the Art Palace. They were more interested in promoting their products as works of art than promoting their undeniably innovative techniques as modern. Techniques like electroplating or the Sèvres pâte-sur-pâte ceramic decorations (Cat. 11) were called "novelties" in the 19th century, when fair exhibitors were competing to catch the visitor's eye and money. Development and advancement of new or "modern" technologies were often felicitous by-products at Tiffany & Company. In fact many of their most extraordinary developments were initially attempts to recreate the look of ancient artifacts—most famously Louis Tiffany's various iridescent glass types like "Cypriote"--as Busch notes in "'Modern Renaissance': Revival and Progression in Decorative Arts at the World's Fairs." Tiffany's mastery of mokume, the ancient Japanese art of pressing together various metals to form sheets with whorled patterns that resembled marble veins or wood grain, may have been mechanically superior to the hand-wrought Japanese product, but to my eye, Tiffany's version was often wasted and lost amid an embarrassment of mind-blowing technical achievements as it is on the wondrous and appositely (if unattractively) named "Conglomerate Vase" (cat. 64) of 1878.  A small unprepossessing mokume powder box was shown at Carnegie in which technique and form integrate with a simplicity that is much more aligned with Japanese (and my) aesthetic sensibilities. However, as I will discuss in more detail later, aesthetic quality is not a significant criterion in the selection of objects that invented the modern world.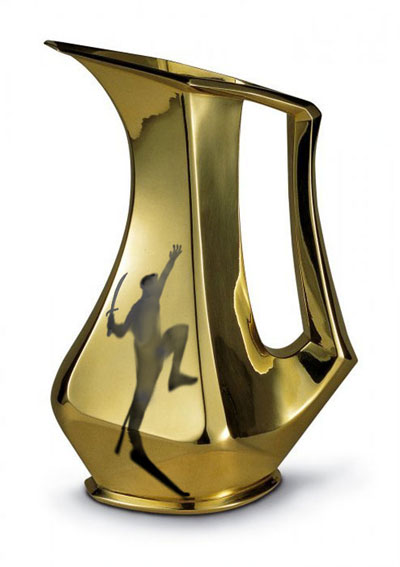 The Keller Frères gold-plated pitcher (Cat. 105) is the icon of "Inventing the Modern World." Its image appears on the cover of the catalogue, where it does indeed look "modern" as most folks now understand the word. However, when this folk began to read that the pitcher was displayed at a 1900 fair and not at the 1939 New York World's Fair, he realized that it would have been too much of an outlier to have any significant influence on the modernism continuum.
The catalogue employs tortuous linguistics to forge a mokume definition of "modern" out of historicism, revivalism, progressivism, and innovation: An oxymoronically edging Busch writes, "Science and ingenuity were united with the decorative arts at a pivotal moment in the nineteenth century, and revivalism became the platform for debuting inventive and progressive processes that contributed to an increasingly modern world." Was the "pivotal moment" the fifty years between the Great Exhibition of the Works of All Nations and the end of the nineteenth century? Isn't the world always increasingly modern? I don't think we can accurately guess what modern was back then; in hindsight we see the Keller Frères gilded silver pitcher (Cat. 105) as a radically modern design for 1900, but we do not know how the Czar and Czarina saw the aberrant design or why Grand Duke Paul Alexandrovich, who did not have our perspective, ordered one: Perhaps the plain mirror-like surfaces were to be security devices affording a glimpse of a potential assassin as he approached the duke's dinner table. Likewise, Stephen Harrison ("Modernity Revealed: The World's Fairs from 1900 to 1925") uses our perspective to assert that the 1900 Henry van de Velde candelabrum (Fig. 24) is a "swirling mass of linear tendrils imbued with movement and thrust, suggesting abstracted forms rather than strictly realistic vines or stems." and goes on to compare van de Velde to Victor Horta, "whose rational treatment of nature in abstraction represented an altogether different approach than the more emotional, even romantic, realistic motifs of Paris-based Art Nouveau." If he is implying that abstracted vines and stems are modern, he ignores eighteenth-century candelabra whose vines and stems are no less abstract.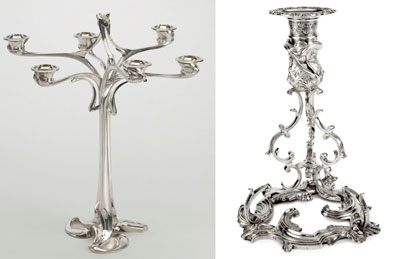 The "swirling mass of tendrils" on the18th-century candlestick on the right is no less suggestive of abstracted forms and no more "strictly realistic" than Henry van de Velde's circa 1900 candelabrum.
Harrison and the rest of the essayists diligently characterize the Tiffanys as paragons of modernism of every ilk:
"…[Louis Comfort] Tiffany's workshop of craftsmen (including women) produced multiples of ceramics, textiles, enameled metalwork, stained glass, and lamps such as the dragonfly lamp (cat.111) which incorporated solidly Art Nouveau motifs though the form was revolutionary—a veritable stained glass window wrapped around the light source. The innovative form made it wholly modern in the eyes of critics and the public alike."
A deconstruction of this quote dilutes claims about Tiffany's revolutionary modernism:
•It is now fashionable to cite the presence of women in early 20th-century crafts shops as a sign of progress towards equal rights, which it was, but female artisans had been working for decades (Hanna Barlow at Doulton) if not centuries (Hester Bateman, 1708-1794) before Clara Driscoll designed the dragonfly lamp.
•The dragonfly shade was hardly innovative or "wholly modern." Although Tiffany's volumetric leaded-glass shades seem to have been introduced around 1896, he had been producing colored glass shades by hundreds since the 1880s and there were flat leaded-glass light shades (veritable stained-glass windows) in his 1878 Bella apartment so the eyes of critics and the public would have been quite familiar with them when Driscoll's variation was shown at the 1900 Exposition Universelle.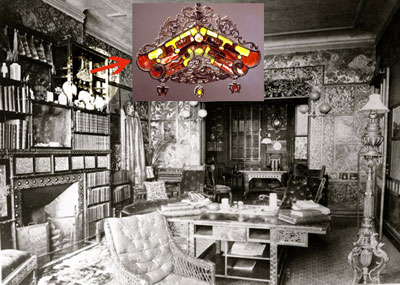 Tiffany began using leaded glass light shades as early as 1878 when he moved into the Bella Apartment Building.
•If anything was remarkably newish about the version of the dragonfly lamp shown in the exhibition, it would be the base, which was designed for electricity. Other versions were designed with fonts, which held the kerosene that provided the most common form of artificial light before the invention of the incandescent light bulb.


The oil lamp on the far left is probably quite a bit earlier than the dragonfly shade now shown with it, while the oil lamp next to it has a shade that was mostly likely designed to go with the dragonfly base. Although now often wired to light up, the "turtleback" inserts on the base of the lamp holds the shade with uneven edges, originally surrounded a fuel font and could not be lit. Only the lamp on the far right was designed for electric lights.
The essayists use period commentary with imprecision as to what the quotes say or mean and, contrary to catalogue preface assertions, they seem to have written about the objects without actually experiencing them. Harrison writes:
Bugatti's "'Salle de Jeu et Conversation' featured a number of his distinctive Cobra chairs (Cat. 128), an entirely new shape, which met with great critical acclaim: 'The artist who knows how to give a truly individual imprint to his furniture is C. Bugatti… living outside every moment and owing everything to himself.' The Turin fair [Espositione Internazionale d'Arte Decorativa Moderna, 1900] was a strong voice in the argument for a new approach to 'new art,' revealing a turn toward restrained, controlled design that was equated with practicality and function."
•The quoted critic's description of Bugatti's otherworldly individuality may not be negative, but neither does it amount to "great critical acclaim."
•In what world is Bugatti's Cobra chair or the environment he designed for it restrained?
•Can the extremely fragile parchment covered chairs be associated with practicality in any way?
•How could the fixed benches--arrayed arena-like in overlapping rows, which discourage normal conversation—be equated with practicality and function?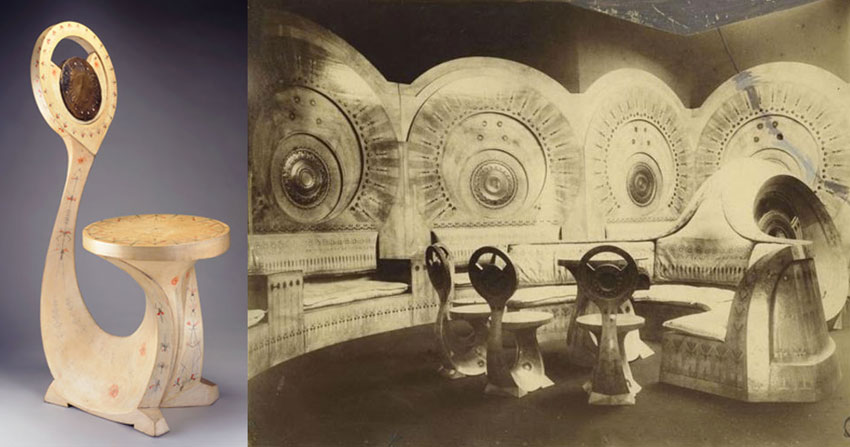 I think Carlo Bugatti was more enamored of the bizarre than of modernism. He began designing eccentric furnishings decades before he installed the "snail room" at the 1902 Turin fair. Bugatti's circa 1898 "Turkish Salon" in New York's Waldorf-Astoria may have been fashionably modern, but it was not progressively modern.
Annamarie Sandecki is the Tiffany & Co. archivist so one would assume that she has had the opportunity to study all the fabulous objects in their collection, yet she too lets theory override observation. She believes the eighty-eight year span of Tiffany production included in the exhibition was stylistically unique to the company and can be categorized thus:

"…Saracenic (drawing motifs from Islamic, Hindu, Persian, Burmese, and Indian art), Japanese (referencing the art and metalwork of Japan), Native American (influenced by the plants, animal life, and people indigenous to North and South America), Exotic (a catchall category including Russian, Viking, and Celtic designs), and Flora (a flower-centric design style)."  

•"Exotic" and "Flora" pretty much catch everything in the known world, past or present, which makes me wonder how any of her categories could be considered unique to Tiffany. Upon close inspection of the zigs and zags and spirals, the horrendous "Native American" style candelabrum Tiffany displayed at the 1876 Centennial International Exhibition might show evidence of Tiffany's distinctive, exquisite craftsmanship, but the overall design could have been dreamt up by any hack.

• The "Flora" style, as expressed on the silver-plated tilt-top table exhibited at an 1893 fair, is comparable to Samuel Kirk's ubiquitous "Repousse" patterns introduced in 1828 and still available and popular today. Fortunately its use on a table is unique to Tiffany. Although based on flora, I don't see how the stylish but hardly unique design of a 1939 brooch (Cat. 188) can be put into the same category as the 1893 table.

Tiffany & Co.'s terrible "Native American" candelabrum as shown at the 1876 Philadelphia centennial.


The repousse design on Tiffany's 1890 silver-plated table is almost identical to Kirk's "Repousse" pattern (left) introduced in 1828; since they both involve flowers and ferns, should both be categorized as "Flora" along with the 1939 floriform brooch on the right?
The ridiculous tilt-top table brings up several highly subjective issues regarding the way aesthetics, beauty, craftsmanship, raw materials, function, and modernity are represented in art museums as opposed to how they seem to be in my mind. Although I don't believe beauty is a universal absolute, I'm not entirely sure that it should be left always and only to the eyes of the beholder. I am willing to accept beauty as an artificial, arbitrary concept created by and existing only in the human brain. Any sentient creature can hear the proverbial tree falling in the forest, but only a human being can deem the tree beautiful. An insect might alter the fallen tree as it chews cellulose into food, but only a human being wastes the tree in order to craft its wood into some representation of nature that other humans will recognize as more or less beautiful. 


Food for thinking about aesthetics as they relate to objects from world's fairs: Artist Giuseppe Moretti's maquette for "Vulcan" looks artistic enough in period photographs, but something was lost in its translation from a two-foot high clay model to the world's largest cast-iron statue. Oh, I don't know: Art? Beauty? Although sculptor, sculpture, and foundry won grand prizes when it was exhibited in the Palace of Mines and Metallurgy at the 1904 St. Louis world's fair, the feat of casting such a huge amount of iron apparently had no part in "inventing the modern world." Vulcan still stands on a tower in Birmingham, Alabama where it is proudly characterized as, "one of the most memorable works of civic art in the United States."
The luxurious objects in the Carnegie show immediately impressed me, but as I stopped in front of the first case, I began to wonder where or what the Art was in those decorative arts. Were the curators and essayists alchemists turning the quantitative (opulence) qualitative (beauty)? The catalogue doesn't convince me that these objects invented the modern world although I can perceive the part they played in defining the world in which they were created. Still, it seems like such a show is more appropriate to a material culture museum than to an art museum especially since most of the objects are not in the show for their aesthetic qualities; they are there because they were shown at world's fairs where gobsmacking, over-the-top wares competed for prizes and the public's attention. In that context beauty is moot. Yet, in an art museum shouldn't aesthetics take precedence over phantasmagoria?
Then I began to try to distinguish extraordinary craftsmanship from extraordinary beauty--no easy task for one steeped in Arts and Crafts movement philosophy, which worshiped handcraftsmanship. Glenn Adamson's books Thinking Through Craft and The Invention of Craft made my task easier. In the former, which is an analysis of  "craft under the conditions of modernity," he Duchampishly proposes "anything can be taken for art, craft included, and that is all there is to say on the matter." Of course that is not all he has to say on the matter! Although the ensuing 206 pages are weighted with mind-bending insights on the matter of craft in art, which I want to contemplate separately at another time, one statement seems relevant to the problematic term "decorative arts":
"Decorated objects may or may not be crafted, and objects that are crafted may or may not be decorative. We might hazard that this is a distinction between means and ends: whereas craft is a supplemental kind of making, decoration is a supplemental kind of form. Though the decorative has no isometric relationship to craft, it is nonetheless true that the two are often found together, and have strikingly parallel positions in art theory."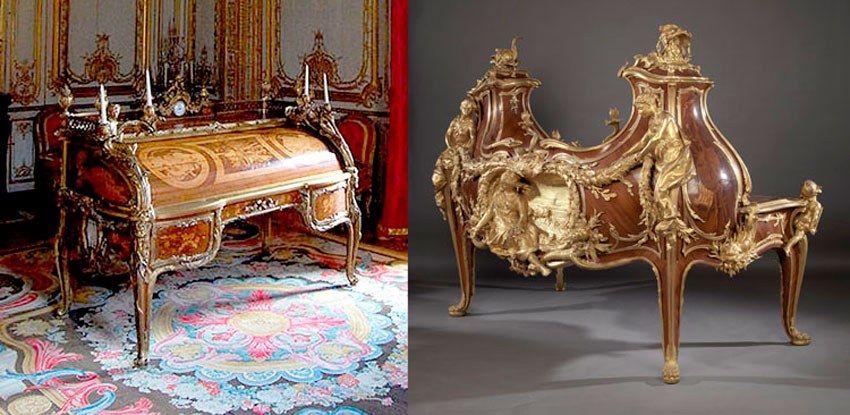 More food: Reisner's circa 1765"Bureau du Roi" has an undeniably important place in decorative-arts history if only because of its relationship to Louis XV, but it also has aesthetic integrity as an example of its era's modern design and royal function. The 1900 Linke "Grand Bureau" (Fig. 28, page 72) has no integrity beyond its exquisite craftsmanship. The center of the thing seems to sag under the weight of the three-dimensional bronze women and oxen. I don't like the concept of "good taste," but, in the case of the Linke desk, the utter lack of taste is too overwhelming to ignore.
I decided the craft skills required to make the Tennyson Vase (Cat. 26), the Bettridge piano (Cat. 29), the Herter cabinet (Cat. 8), the Fabergé egg (Fig. 22), the Gorham dressing table (Cat. 99), the Conglomerate Vase (Cat. 64), and the Kiyoshi silk screen (Cat. 145) among other showpieces were admirable if not beautiful, but they didn't necessarily produce beautiful objects. 
A two-page spread shows details of the Tennyson Vase larger than life, which allows one to appreciate the silversmith's talent—teensy-weensy chain mail armor is so precisely rendered that it is difficult to believe it was made by a human being. Zooming back out to a normal perspective, the flaws in the overall design overshadow the perfection of execution in the details. The high relief figures seem to be clinging to the vase so they won't slide off the side rather than clutching each other in angst over the death of Arthur. Either way the high drama of the narrative obliterates the form of the vase itself.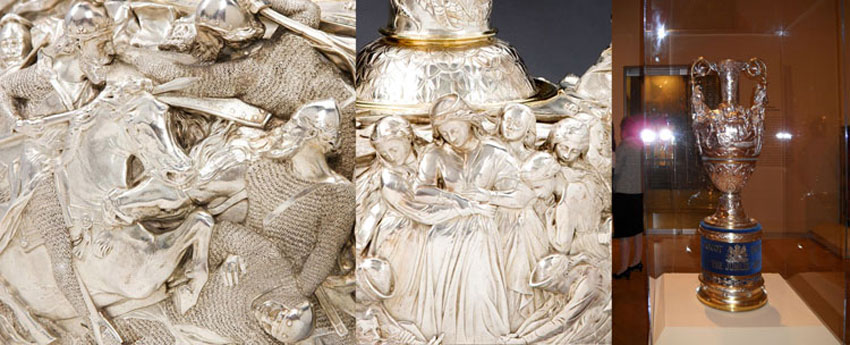 As with Vulcan and the Linke desk, no amount of institutional critique can turn the Tennyson Vase into a beautiful object and I would argue that such analysis also falls short of turning it into an inventor of the modern world. This is not to say the vase is not admirable or, on some level, worthy of being in a traditional (not to say "old-fashioned") art museum collection.
If quantity could morph into quality, then the sublime muchness of the Bulkley and Herter bookcase would make the behemoth a masterpiece. Even the critics of the day, who must have been inured to such excess, decried its hulking size and limited function. They described the expert carving as "unexceptionable," which is an interesting choice of term in that the adjective's synonyms are "irreproachable," "blameless," "unimpeachable," and "impeccable," but notably not "beautiful." The leaded glass in the doors is a dominant part of the design, taking up fully a quarter of the cabinet facade, but the glass in place now is a later replacement; the lead lines form leafy laurel wreaths that have nothing whatsoever to do with the ersatz "Gothic" motifs bristling over the rest of the piece. I have to surmise that curators ignored aesthetic merit in favor of Herter's brobdingnagian reputation and the fact that the bookcase was part of the 1853 New York world's fair when they gave the cabinet a permanent place in the Nelson-Atkins Museum of Art 's collections and took on the walloping expense of crating the thing up so it could be dragged to art museums all across the country.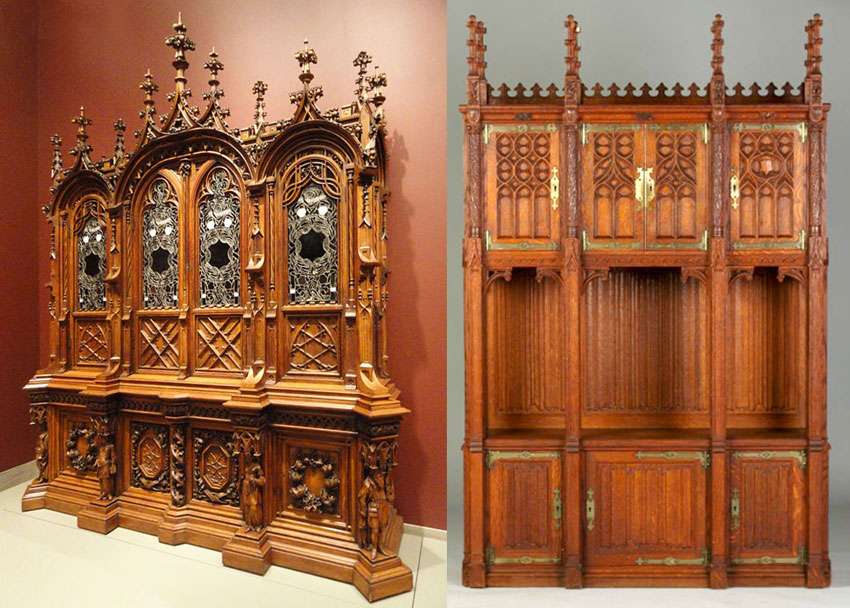 Admittedly the New-York-State-made cabinet on the right is a more static, pedantic design than the exuberant Herter extravaganza on the left, but it is also an undeniably better design both aesthetically and functionally. The carved elements are well suited to the two dimensional surfaces they decorate and the scale is well suited to domestic use. I would argue that it also expresses modern ideas as someone like Ruskin described them, e.g., accurate reference to design source, obvious handcraftsmanship, indigenous wood, natural color, and open finish.
Gorham exhibited match safes at the 1900 Exposition Universelle along with the Dallas Museum of Art's preposterous silver dressing table. The tiny match safes were offered in a variety of fashionable styles. They were not unique or entirely handmade, but they have as much art or beauty and as much to say about "Inventing the Modern World" as the table and a lot more aesthetic integrity.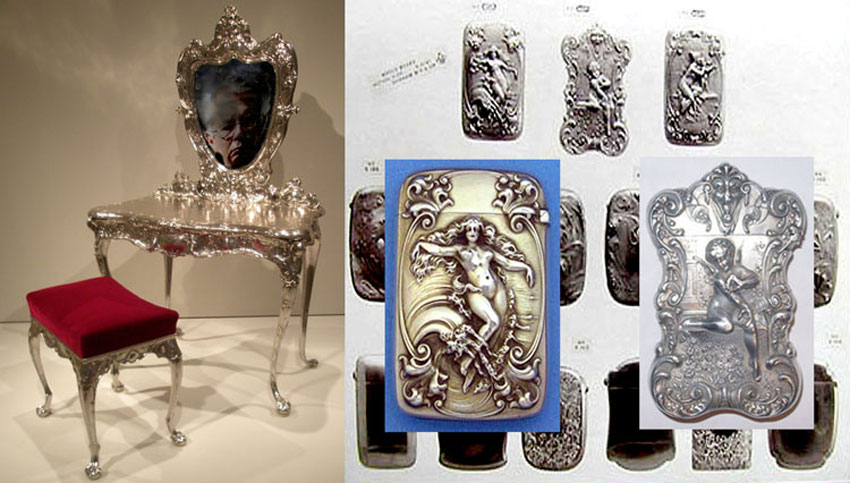 The dressing table (cat. 99) on the left says no more about Gorham design and craftsmanship or about the world in which it was made than the little match safes the company showed along with it at the fair. Although some of the Gorham match safes exhibited at the 1904 Paris exposition were made of 14k gold, identical designs were made in silver. The period photograph of the match safes Gorham sent to the fair is courtesy of Neil Shapiro http://www.matchsafescholar.com and L. J. Pristo.
Textiles were among my favorite objects in the show and they got me thinking about the value of handwork, aesthetic or pecuniary. Had the yard goods been hand woven they would have made entirely different aesthetic statements because only a machine could produce the subtle luster and sparkling phosphorescence that emanates from near perfect regularity. Somehow we're back to the tension between quality and quantity--I think we would value a hand-woven piece more than endless yards of machine woven goods no matter which was more democratizing, innovative, progressive, or modern.
For me the conundrum is best illustrated (though not resolved) by Hashio Kiyoshi's folding screen entitled "Morning Sea." When I first encountered it as a tiny computer image, I didn't know what it was made of, where it was made, who made it, or when it was made, but I did know it was a powerfully charismatic masterpiece no matter what, where, who, or when.
As I approached the real thing from a distance of twenty feet or so, I experienced it's power in a different way: At six-feet tall the four panels of the delicate screen are just the size one imagines or assumes they would be, but the dark and churning ocean waves seem larger than life, which makes them look as if they will break through the two-dimensional frames at any moment. The sensation is unexpected and unsettling; Japanese screens are usually calmly contemplative. Even when dragons, tigers, or samurai are depicted they seem inanimate because they look flat and unrealistic to the non-Asian eye. Fearful of drowning, I got as close the screen as I could without setting off alarms. I couldn't really see how the waves were made in the protectively dim museum lighting so I wondered if the image was a softly tinted photograph like those (often printed on silk) that so fascinated Japan at the time. Once I realized that the waves had been rendered with millions of handmade stitches, I began to wonder what difference the method of production made. Could a photograph or a painting amount to the same aesthetic situation? I decided different, brighter lighting would give the silk threads a realistic shimmering movement unattainable in any other medium. Then I realized that a modern computer could be programmed to produce exactly the same stitches. If the wonder of human achievement were to transfer from the hand to the head, would it take art out of heart?  Kiyoshi's screen is unique and laboriously handmade. What is the art quotient of a machine-embroidered silk panel that could be one of many identical panels set into multiple folding screens?  What is the creativity quotient? I haven't thought long enough about this to be certain for myself, but I'm inclined to believe the Kiyoshi and the computer production would be aesthetic equals. Any other conclusion would require a romantic religious faith in the unique human soul and the greater spirit that created it. We humans admire our handcraft because we are vain enough to equate our cutting and pasting, stitching and knotting, chopping and hammering with a Creator who waves his arms about to bring a tree or a bee into being.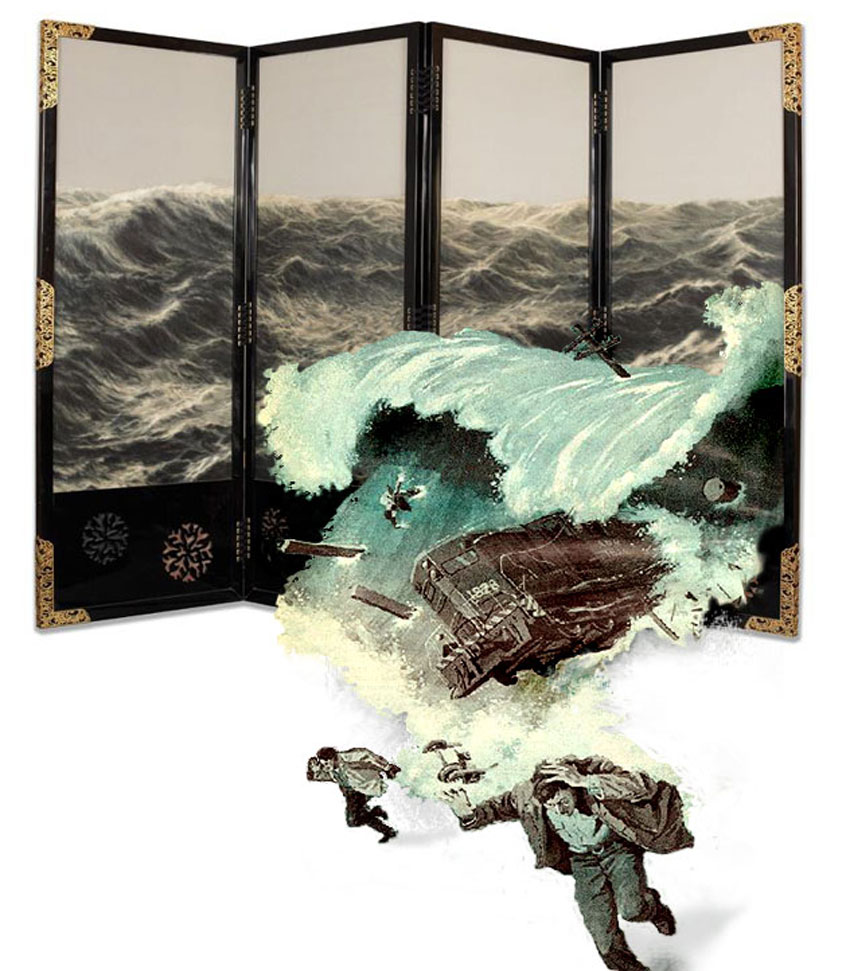 Cat. 145: Embroidered Screen, "Morning Sea" 1915, Hashio Kiyoshi
Working my way back up from the specifics of a single handmade object to generalizations about all the decorative arts in the exhibition, I am still troubled by the exhibition's assumption of beauty and my sense of the absence of beauty as I experience it in the splendiferous pieces so splendiferously installed in the museum galleries. A cynic like me can fend for himself, but what is the takeaway for a credulous general public? Journalist Judith Dobrzynski is no layman yet even she accepts the show's claims and moves them a step further:

Manufacturers used fairs to show off, to stir up excitement about their wares and to spark consumption (in general, as well as for these objects specifically). Carlo Bugatt's "cobra chair" made its debut at a fair, as did a rocking chair demonstrating the bentwood technique. Westerners didn't use jade or onyx in jewelry until they saw it in a Chinese mask at a fair. And take a look at the silver rococo dressing table here, made by Gorham for the 1900 fair, and now in the collection of the Dallas Museum of Art… 

 Often the pieces show off new materials. A "Rare Earth" series of glass bowls, made in the 1920s by J. & L. Lobmeyr of Vienna, acquired their deep, glowing colors through the use of uranium.

• Thonet made a specific kind of bentwood ubiquitous and Breuer modernized the use of bent, laminated wood, but John Henry Belter and Samuel Gragg used these techniques with great success decades before the Thonet rocker (Cat. 20) was shown at the 1862 international fair or Breuer's "long chair" (Cat. 177) was shown at the 1939 Golden Gate International Exposition.

• Westerners had been using onyx and jade in jewelry for centuries before any, possibly apocryphal, Chinese mask appeared at a world's fair.

• Uranium was neither a new material nor was its use in glass new when Lobmeyr showed Marianne Rath's designs (Cat. 165) at the 1925 Paris fair. Uranium's nuclear properties were discovered in the 1930s, but it was identified as an element in 1789 and the ancient Romans used uranium oxide to color glass and ceramic glazes.

Dobrzynski can be excused for the way she exaggerates the historical importance of these fairs because the catalogue itself indulges in the same sort of hyperbole. Decorative arts historian Ethan Robey calls the Dutch commission's display at the 1878 Exposition Universelle "essentially some of the first period rooms" ignoring the "Colonial Kitchen" at the 1876 Centennial Exposition. Blaszczyk misrepresents the color of the world before the fairs when she writes, "Certain materials and industries were readymade for this [synthetic dye] color explosion. Since ancient times, the vitreous arts—enameling, pottery, and glassmaking—had provided consumers with a modicum of color in an otherwise drab man-made world." Drab? Really? How drab was the Parthenon or the murals and furnishings in Pompeian villas? How drab were Asian temples and palaces? How drab were Aztec and Hawaiian cloaks and headdresses? These may seem like small gotcha points, but the cumulative effect of many such incursions distorts the story of the world's fairs.

The "Colonial Kitchen" was a period room installed at the 1876 centennial fair in Philadelphia.


The white marble of the Parthenon was originally decorated with brightly colored paint and the huge statue of Athena inside was polychromed and gilded.


The walls of Pompeian villas were covered with brightly colored murals.



Restorations of "The Temple of Heaven" (roof tiles on the left) and the Sze Yah Temple on the right provide a vivid idea of how those buildings looked when first built.


Moctezuma's quetzal feather headdress was given too Cortez in 1519. The robes of Hawaiian royalty like the 19th-century example on the right, contained as many as 800,000 individual feathers. The yellow feathers are from the Oahu O'o, whose plumage was part of an impressive display housed in the Smithsonian exhibit in the Government building at the Pan American Exposition held in Buffalo, New York in 1901.
We hope that, in turn, the exhibition Inventing the Modern World and its catalogue provide a foundation for future scholarship on this global topic.
Busch and Futter express two undeniable concepts: World's fairs are a global topic and their production should be an ineluctable part—"a" foundation but not the foundation-- of any future decorative arts scholarship. However, I'm not certain that that amounts to as much as the curators imply. The essays in Inventing the Modern World  are primarily descriptive because there is little room for meaningful analysis once justifications for the inclusion of each individual object are slotted into the text. The exhibition and catalogue deal with a global topic, but isn't that a bit like saying a rubber duck is a global topic?